Marketing Automation: Good for Productivity, Increasing Sales & More
We often think of marketing automation software as tools 'to make our jobs easier' - which is generally the most common objective. Interestingly enough though, email automation is an underused tool, with nearly 6 out 0f 10 marketers saying they don't use their ESP (email service provider) for anything more than the basic broadcasting of email*. From simple triggers to more advanced drip campaigns, this is an opportunity not to miss, because once the up-front work is done, marketers can turn their attention to the next thing on their long list of to-do's.
Email automation also easily increases sales and improves your marketing-sales alignment. Over half of companies see more than 10% of their sales come from email alone, with 8% stating that more than half of their sales come from email*. To take that one step further: sending the right message at the right time to the right person is an exponentially greater sales and lead generation tool than the 'batch-and-blast' approach. As far as specific automated programs go, abandoned cart emails seem to be the most powerful, sitting at 13% greater ROI, with subscription or website sign-ups coming in at second, with 11%*. Simply stated: implement a 'thank you for signing up' email and instantly increase sales by at least 10%. That might balance out a promo code you may use in said welcome email, as well.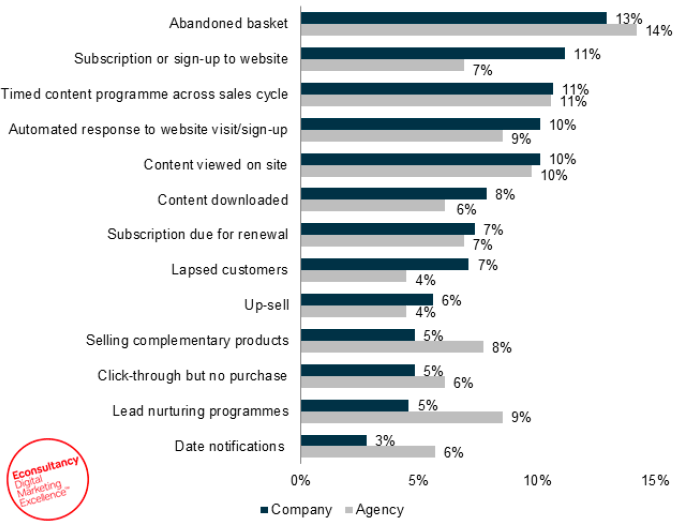 Marketing automation isn't just about making your job easier, though; it's transforming customer engagement by helping you create and deliver the right content to the right people -automatically- at the appropriate time. This reduces list fatigue, irrelevant messaging, and allows for customers to feel as if they're engaged in a relevant conversation with a company/ brand. This is ultimately what will increase open and click-through rates, and drive sales.
Maybe most marketers have yet to implement marketing automation due to a perceived amount of complexity involved, lack of strategy or time restraints, but a drip campaign can be set up in a matter of minutes. TailoredMail makes the creation of a drip campaign as simple as creating an email-newsletter, versus forcing its client to learn a whole separate solution for automation. If you need strategy help, contact your account manager today for a strategy-planning session. We're here to help!
*According to the Email Marketing Industry Census 2018