We make DYNAMIC CONTENT easy and powerful.
Dynamic Content is an extremely powerful concept - one that can allow you to deliver highly relevant content AND potentially build highly innovative, scalable email campaigns. TailoredMail - as you may infer by our name - was designed from the ground up to enable anyone (of any skill level) to use dynamic content in emails and landing-pages. In fact, Microsoft was our very first client and used this solution to dynamically mix-and-match content to different interests of the subscribers.
Anyone who sees a demo of the system will be startled at how simple and straight-forward it is. No scripting - just point and click.
Here are the different kinds of dynamic content options within TailoredMail, and how they can be used:
Target individual articles of a newsletter to each subscriber based on their profile/interests
With TailoredMail, each article can be tagged to ONLY go to a specific segment or subset of your audience, based on their profile. In the example below, TailoredMail is used by Saatchi and Saatchi to send monthly email newsletters on behalf of over 1,000 Toyota dealers throughout the USA. Different dealers have their logo, links to their website, and contact info dynamically inserted based on each subscriber's profile. Each subscriber gets a different combination of articles based on whether they, for example, a.) like a specific type of vehicle such as an SUV or Hybrid, b.) expressed interest in getting their car serviced, or c.) have visited the dealer's website within the last 30 days.
Dynamic Content Blocks
We offer an incredibly flexible drag-and-drop script builder, that allows you to perform complex if-then-else types of logic within ANY part of an email or landing page. Build queries from email activity, profile information, website activity, product revenue and more. When created, you simply place a merge-tag into your email wherever you want the dynamic content displayed, such as, "".
Real-Time Images
We have brought real innovation to dynamic images - allowing you to insert countdown clocks or different offers that render in real-time based on the time or day the email is opened (and it can change EACH time it is opened). For example, if you had an offer that expires at midnight tonight, the count-down clock would change each and every time you opened your email, depending on how much time remained until midnight. This provides a real sense of urgency to the reader, making the email more engaging and compelling.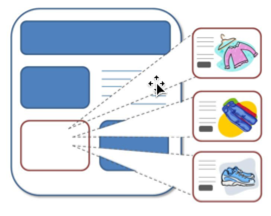 You can also perform A/B image testing in real-time. For example, let's say you have two offers that you want to test. Simply load them into TailoredMail, set your criteria that decides which one performs better (e.g. first one to 50 clicks or whichever one has the most clicks after 20 minutes), and once decided, the winning image will be shown to all subsequent subscribers when they open their email.
Look-up fields
TailoredMail offers an extremely clever and valuable feature that allows you to define "sub-values" to a profile field. For example, let's say each subscriber is assigned to a salesperson in your company. The list of salespeople would be put into what we call a "Look-up field", and you can define "sub-values" for each salesperson, such as their picture, their title, their phone number, their email address - anything you want.
After doing so, you can then dynamically insert these merge-fields into your emails, such as:
Let each email dynamically be "from" the subscriber's assigned salesperson
Insert that subscriber's assigned salesperson's picture, name, email address and phone number into the template or into a welcome-article
Set the email's "reply-to" value to be that of the salesperson, so that replies go directly to them.
In the end, TailoredMail helps you deliver highly personalized and tailored emails that get dramatically improved results over the static batch-and-blast approach, as well as allow you to extend your email campaigns to integrate with reseller partners, salespeople, storefronts, and more.