"TailoredMail is a leader in worldwide email privacy compliance with our innovative support for documenting consent, honoring consumer/employee data requests, and complying with all privacy laws and regulations."
- Matt Highsmith, CEO, TailoredMail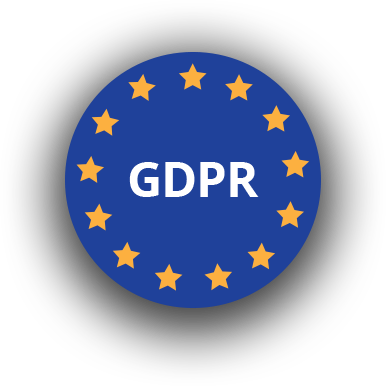 TailoredMail's goals are aligned with those of the GDPR, namely to respect the rights of our customers and work every day to earn their trust.

To meet and exceed the requirements of this regulation, we finalized our product development, security procedures, and third-party certifications prior to the GDPR effective date of May 25th, 2018.

We have categorized our GDPR deliverables into three different categories; Compliance, Infrastructure, and Data Privacy. Below are the descriptions of each.

Compliance
To meet the requirements of data-transfer of personal data between the EU and our US-based servers, we have completed the following:


We are EU-US and Swiss-US Privacy Shield Certified

We have assigned JAMS to be our dispute-resolution representative


EU-based application placement in the Netherlands

We currently have a secure, private-cloud in Seattle, and are expanding that cloud with a physical location in the Netherlands for EU-based customers who wish to have us more stringently comply with more secure data transfers (by keeping data within the EU).


We have an EU representative for compliance of Article 27.

The GDPR requires many organizations that are regulated by the GDPR - but have no physical presence in the EU - to establish an official representative located in the EU for the purpose of responding to the inquiries of European regulatory agencies.


We have our own internal corporate policies and procedures for data security testing and data handling and have named David Tinney to be our Privacy Officer.

There are a number of existing procedures and policies within TailoredMail that meet (and exceed) the GDPR requirements, including a comprehensive "Privacy by Design" development approach to building our solutions.
Infrastructure
To provide the right level of support for GDPR data handling, as well as offer the tools necessary for our customers/authors to manage/monitor their own compliance, we have extended our application in the following ways:
Proper Consent: TailoredMail Forms and API-insertions

TailoredMail offers GDPR-compliant consent forms and APIs that track the date/time, location, opt-in-message-presented, IP address, and the source of any submission into the system. These forms are typically used/required for the collection of customer/consumer-facing pages and subscriptions. They can be embedded into any website/web-page, and the data is submitted directly into TailoredMail.


Logging of all consent submissions:

TailoredMail offers a detailed logging mechanism for all consent capture records for each email address stored in the system. The data will be query-able and will serve up real-time reports on compliance status.


Access of Data: Subscriber/Consumer/Employee Preference Centers

TailoredMail offers a highly flexible and customizable "preferences" page that allows the email-recipient (if desired) to edit the information, interests, subscriptions, and preferences assigned to that database. This preference center page has been enhanced to support the potential request of a subscriber to comply with:

The right to be forgotten
The right to request access all of the data stored on their behalf, or for the purpose of portability (taking it with you and transferring it to a new provider).


The Right to be Forgotten, and The Right to Access Your Data


The GDPR requires the ability for email recipients to:

review the information stored by clients
the ability to have that information deleted
the ability to receive a log of that information.


TailoredMail supports this GDPR requirement by simplifying a customer's ability to request/complete such a task.

Our unsubscribe and preference-center pages, as well as an automated monitor of inbound email replies from outbound email messaging (via the TailoredMail system) will generate an automated request to our clients for processing.
A webhook is available to pass to our clients (in JSON format) the request as soon as it has been submitted to us.
For the "Right to be Forgotten", these profiles will be automatically flagged for deletion within our system after the legally required 45 days, unless confirmed earlier from our client. The system can be configured to email a confirmation back to the requestor during any stage of the removal process.


Inventory Assessment, Reporting and On-Going Capture of Consent

To assist our clients in assessing consent-compliance, we will offer an inventory report of all subscribers/email-addresses in the system and whether they reside in the EU (or not, or whose geo-location is unknown) and measure the percent of consent compliance in real-time.
To capture (or recapture) consent, an innovative feature will be provided that will (optionally) intercept clicked-links from within emails. This intercept-page will determine - before redirecting the email-recipient to the link destination - if they have provided consent and are in the EU. If not, the system will present them with a page asking for their consent:

If they answer YES, then they will be redirected to the destination link that they were originally going to, and the database will update their consent status and log.
If they answer NO, then they will still be redirected to their destination, but the system will then flag them for removal/unsubscribe status.
This feature will help auto-clean a database where geo-location is not fully known for some subscribers.
Data: Privacy by Design
A key principle of GDPR is that corporate data storage - and the applications that leverage that data - are protected at the moment it enters the database (versus storing data and then designing strategies on how to protect it). To that end, the following are built into TailoredMail.
Anonymize EU citizens/employees

TailoredMail allows the ability to manually or automatically flag known EU email addresses stored in the system (e.g. customers, prospects, or employees), and encrypt them. For example, once an email address is added to the system (via a form, an API, or a manual entry) and flagged as being located in the EU, that email string will be encrypted in the database using an AES cryptography algorithm.
Only at the time when an email is created will the email address be decrypted and inserted into the email header for sending. Otherwise, the individual will be anonymous within the database, reports, queries, and lists.
This approach allows regular reporting to continue to occur, where aggregate data results can help the author/user/company track trends and engagement results.


Pseudonymization of EU citizens/employees (in alpha)

TailoredMail is exploring the alternative approach to privacy where the email address is stored and retained, but any other data on the individual is masked with a "key" that is also encrypted (used AES). This encrypted key (when decrypted) converts into a set of defined preferences or profile values that determine common values such as location, department, interests, preferences, etc. used for the sole purpose of targeting the right information to the right people.
In this approach, TailoredMail reports will remove EU citizens from any drill-down results, but their aggregate data can be leveraged to showcase trends and overall results based on the interests/preferences/profiles of those who open, click and respond to the emails.


On-going Data Security Practices (already implemented)

Agreements with all customer to ONLY allow the storage of (and request from subscribers) profile data in TailoredMail that is absolutely required for targeting content to the right audiences, or for critical measurement of communications success. No health, financial, or sexual-orientation information is allowed in TailoredMail.
Encryption of data at rest
SOC 2 Compliance
Only password-expiring or SSO login mechanisms are offered
Network security auditing and PEN testing on a regular basis
Disaster recovery, real-time data redundancy, daily data back-ups, and data-retention policies which are detailed and enforced
Role-based permissions within the application